Mission
FUNIBER´s mission is based on the idea that knowledge must be accessible to everyone, not only to college graduates. There are a variety of student populations depending on the education level previously achieved, and different levels of depth in each one. Also, everyone should be able to choose the road that satisfies him or her in the personal process of learning and cultural and intellectual formation. Such is the framework of FUNIBER's mission.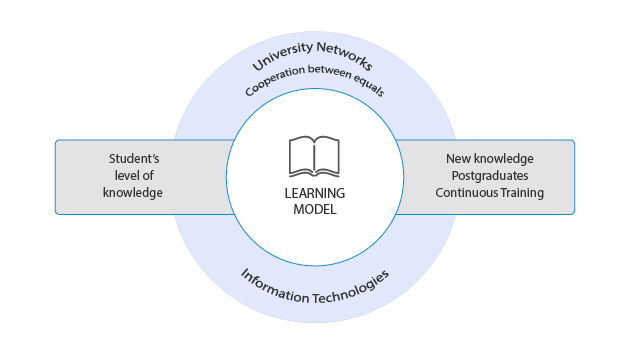 As for learning being a lifelong process, our response consists in staying in contact with alumni, keeping them informed with news about programs and activities related to their areas of interest.
Vision
To fulfill its mission, FUNIBER is determined to educate critical thinking and participative citizens for the Knowledge Society, from the personal development perspective and the respect and development of the national, regional, and local identities.
In its primary activity, FUNIBER does not compete with universities, it works with them, complementing their actions in two ways:

Diversifying the teaching-learning process.
Helping the universities to cover their less developed areas.

To form persons that are capable of learning by themselves, responding to the demands of continued education.
It is not enough to acquire knowledge; one also has to learn how to apply it in real contexts. The proposed solution is to work in international online groups.
To promote education that allows students to feel competent rather than competitive.
This formation is acquired through a "Network of Universities Networks" in which every institution preserves its own identity.