Presentation
The Ibero-American University Foundation (FUNIBER) has created

, professional software for calculating diets under the direction of Doctor D. José Mataix Verdú (EPD). It was created for health professionals who develop and/or nutritionally assess a healthy population, or one that presents a specific pathology.
Today, the role of food and nutrition in society is acquiring the importance it has always deserved.
This implies a daily growing interest on the part of the population to learn the fundamentals of a balanced diet.
The goal of

is to provide a tool that aids health professionals in the personalization of diets, as well as patient management.
In comparison to programs of this type that already exist on the market,

presents a few distinguishing characteristics: growth patterns, sexual maturity, as well as assessment tools, and the creation and personalization of professional diets.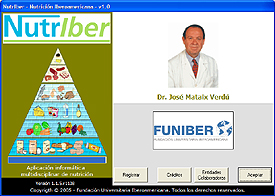 Characteristics
Among the large number of possibilities that

, places at your disposal, we find the following:
Calculation of complete nutritional diets. The nutritional analysis includes knowing the structure of macronutrients and the most important micronutrients of the usual diet.
Updated and expanded composition table of Spanish food, including food sold on the Spanish market and enteral nutrition supplements used in clinical and/or hospital practice.
Management of personal data of the patient.
Assessment, creation and customization of diets.
Preparation of customized menus tailored to each situation.
Diagnosis of diets compared to the recommended values for each subject.
Development of diets using the ration system. Based on the distribution, users can make custom menus for each patient.
The program allows for the introduction of new food compositions and/or recipes.
Comparison of patients' analytics with reference values.
Preparation and reporting. The program user has the option to print the texts, graphics, and diets.
Contacts
Business Contact
Ibero-American University Foundation (FUNIBER)
Paseo García Faria 29, 08005 - Barcelona
nutriber@funiber.org
Phone: (34) 902 22 00 31
 
Technical Contact
Ibero-American University Foundation (FUNIBER)
Paseo García Faria 29, 08005 - Barcelona
nutriber.soporte@funiber.org
 
Contacto Nutricional
Ibero-American University Foundation (FUNIBER)
Paseo García Faria 29, 08005 - Barcelona
software.nutricion@funiber.org
Phone: (34) 93 493 99 00
 
Collaborating Entities
The collaborating entities that are mentioned below have provided nutritional information about their products in order to expand the Food database that the Nutriber program contains. In this endeavor from the Ibero-American University Foundation (FUNIBER) by maintaining the data updated, there is a commitment from institutions to refer to FUNIBER all those new nutritional values for new marketed products or reformulations of some already in existence.
Authors and Collaborators
Authors
José Mataix Verdú (EPD)
Francisca Collado Torreblanca
Coauthors
Irma Domínguez Azpíroz
Sandra Sumalla Cano
Jose Luis Sierra Cinos
Maurizio Battino
Maria Soledad Ferreiro Cotorruelo
Vanessa Dolz López
Guillermo Rodríguez Navarrete
Organization
Authors – Area advisers
Public Health. Nutritional Epidemiology
Luís Serra Majem
Miguel Ángel Martínez González
 
Pediatrics
Rafael Tojo Sierra
Rosaura Leis Trabazo
José Maldonado Lozano
 
Sports Nutrition
José Enrique Sirvent Belando
Raul Garrido Chamorro
 
Design and Development
Downloads
Download the Installer Program Here

v.1.1.1.r5
If you wish to evaluate

, install this fully functional version of the program and see the advantages for yourself. The program that is downloaded is fully functional for 30 days, after which it must be registered.
For registration, technical or other information, visit the Contacts section. .
For details concerning the decimal configuration, follow the steps to configure it as indicated in the program assistance.
Updates
If you are a registered user of a previous version, contact technical support (nutriber.soporte@funiber.org), to obtain instructions on how to update your program.
FAQ
In this section you can locate some queries made to the tech support and that we believe may be of use. Otherwise, please contact technical support of

.
Can I install this software on a laptop with limited resources?
A Pentium II may be sufficient to install and use. Keep in mind that Nutriber will improve its performance depending on how much memory your computer has.
Can I introduce new foods to the database to complete it or extend it?
One can work with food belonging to the "Food Composition Tables" by Prof. Dr. José Mataix Verdú, 4th edition, revised and expanded, but Nutriber offers the possibility of adding other food compositions to use when preparing a diet.
Does NutrIber function on a network?
No. The current version of Nutriber works on a single computer. The version will soon be available in the Nutriber network.
Is it possible to run Nutriber on Linux or Mac?
No. Nutriber runs only on Windows operating system, specifically Windows 98 (Second Edition), Windows 2000 and Windows XP.
What limitations does the free version of Nutriber have?
The free version is fully functional, allowing you to evaluate all its features-for a period of 30 days, after which it becomes inoperative. To continue using it you must acquire a user license. All the data you have worked with during the trial period remains available.
Does NutrIber use the period as the decimal separator?
If you attempt to load Nutriber the following message appears: "Please check that the decimal separator of the system is the period and reload the application." Follow the steps to configure it as indicated in the program assistance.